As a Sales Leader what can you expect from the new user experience from Salesforce.com to do for your team?  Would you believe me if I said that you would finally be happy to use Salesforce and would sell more? Not to mention, you would finally feel like Salesforce was more than data entry for management, and start thinking that it was a tool to actually keep you focused, help you know what to do next, and make prep for pipeline reviews a thing of the past?
No seriously, hear me out.
In case you missed it, Salesforce.com has been talking about Lightning for some time. Salesforce.com is retiring the Classic user experience for their next generation which they are calling Lightning.  

The two most impact things you need to know about Lightning that sets the tone for my claims:

Salesforce Lightning is not a 1 to 1 with the Class Salesforce.com.  Some Classic features have been retired, some rethought and some are new and original to Lightning
The move to Lightning is a great time to:

Get rid of fields that are not being used.
Define key processes
Reset expectations
Retrain your staff and managers.
After moving hundreds of sales reps into Lightning, we found that the following new features are really changing the game for Sales reps.  
Profile Specific Homepages – For the first time, Salesforce allows admins to define a homepage, specific to each user profile. This has really given the user a specific place to see and do all their work.  These dashboards are specific to each organization and can be aligned to the way you work.

For Account Executives, we can create dashboard elements that show deals about the close this month, deals past due, deals with no activity, how close a rep is to Quota or say which deals will get them to quota.  
For  Inside  Sales Reps, we can create a dashboard that shows what Accounts have not been touched in the last 60 days or the number of activities they have for the day or week. They can see how well they are doing around setting appointments this month against plan.  

Kanban View – On each tab, you traditionally defined a view which was displayed in a table that looked like Excel.  You can now select to have that view shown in a Kanban view which is really a visual of the data. In the case of Opportunities, a Kanban view is grouped by stages, with each deal represented on a card.  This view allows sales reps to more quickly see where things are as well as move cards between stages so that without doing data entry they can keep their pipeline up to date.
Paths – For the first time you can set up a path for how to work a Lead or an Opportunity.  A path allows an organization to define specific flow as well as procedures needed at a specific step or stage.  For example, a sales path is linked to Opportunity Stages. For each stage, you can now define directions or tips as well as what fields are important. This not only helps new reps get up to speed more quickly but is also a gentle reminder for experienced sales reps what is needed and when which improves win rates as well as reporting.
Calendar – Individual users can now setup different calendars so that any date driven record can be placed on a calendar view.  The most helpful view for a sales rep, a calendar view of what Opportunities are scheduled to close on which day of the month. The calendar is also interactive so that a rep can just slide the record between dates. This additional view has helped reps see what is closing when and update their pipeline without doing data entry.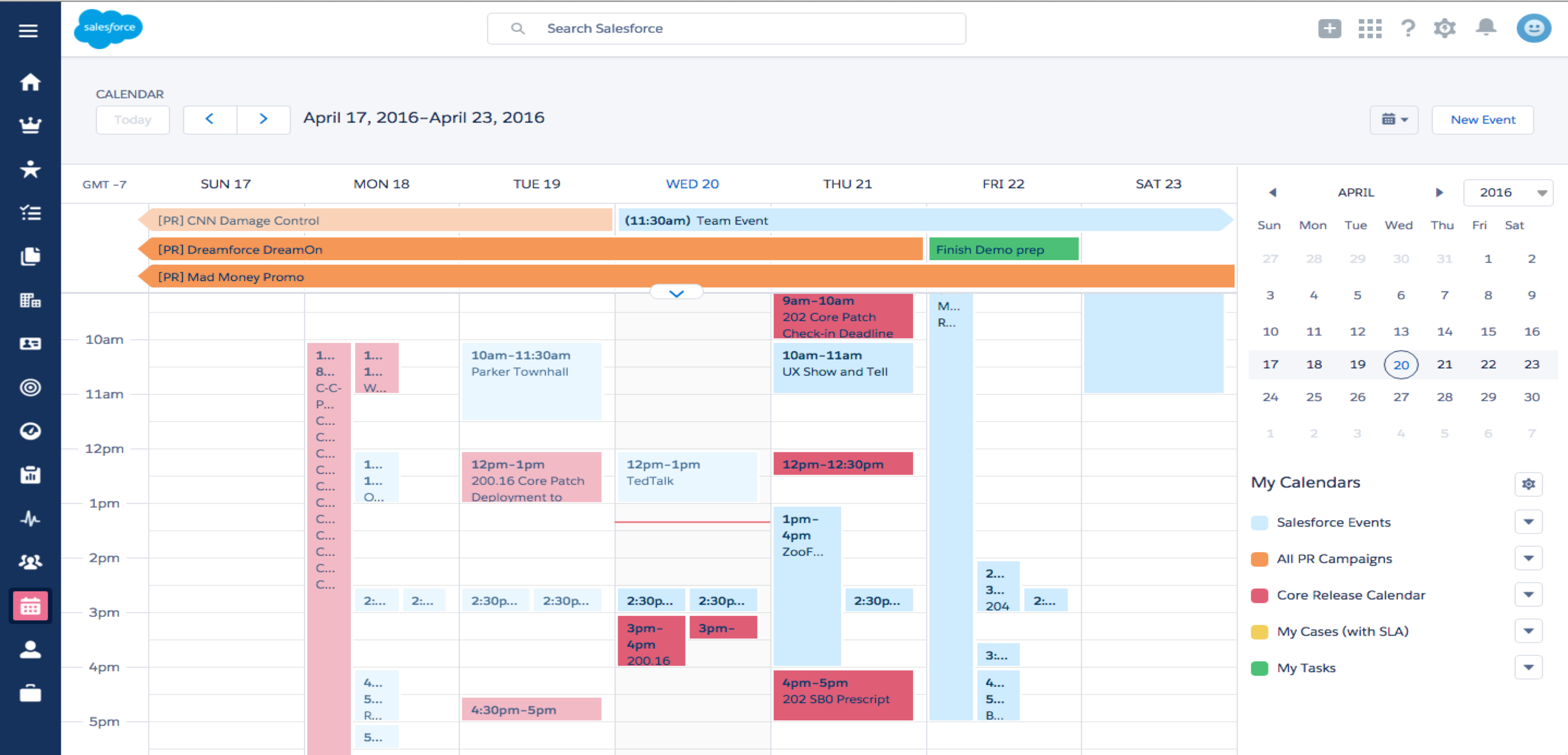 Task Tab – Finally, all open tasks can be seen in one place.  The new Task Tab will show ALL open tasks regardless of where they are saved in Salesforce. In the past reps had to work hard to find and work open tasks. Now they can be seen quickly in one place.  
Console – Salesforce has had the Console around for a long time but it was hardly ever used.  With the new Lightning interface, it has come front and center. The Console is actually a new way of working in Salesforce.  A console is a setup to match the way a person works within Salesforce and allows for rapid movement between records. This is really great for pounding down a list of prospects to call.  
I've just outlined a few of the great new features of Salesforce Lightning that have made sales reps happy and more productive.  The downstream impact of better Salesforce adoption by sales reps is better data to manage and coach your teams.
If you have moved to Lightning and your reps are not happy, perhaps it is time to reach out for some help.