I'm back from Dreamforce 2022! I learned a lot, met many great people, and tried to peel the onion a bit to better understand bigger business and Salesforce trends.
So, without further ado, read about my takeaways from Dreamforce 2022.
Dreamforce is back!
With a feel much like 2019 (including similar themes and assets), Salesforce did a stellar job recreating the same vibe of years past. What stood out to me this year:
The focus on sustainability (which manifested in more eco-conscious food choices, packaging, and minimizing swag and other waste).
The audience was a great mix of trailblazers, partners, Salesforce team members, and luminaries. As Marc Benioff, Salesforce Co-CEO, predicted, it would be a year of reconnection and reunion, which it was!
The effort invested into inclusion. As someone with a hearing disability, seeing the keynotes closed-captioned for the first time was a big step forward for people like me.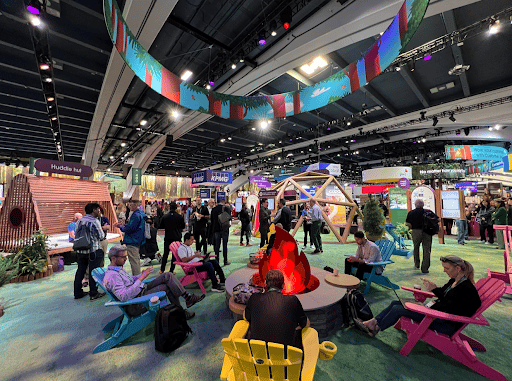 The Salesforce partner ecosystem was alive and well with a great showing at the expo. One of my favorite things at Dreamforce is wandering the expo floor and talking to vendors there. I spent a lot of time visiting a few booths that align with Red Argyle's offerings, notably security, compliance, document management, and enablement vendors. It's great to see the multitude of options that the market is now providing in this space which can let us do more for our customers faster.
Salesforce Genie
On the Salesforce product front, the big announcement was Salesforce Genie, a real-time data engine capable of improving everything from back-end CRM to service to marketing efficiency.
My read is that, as a stack, it's "new" but built on tried and tested existing Salesforce technology and is generally available now. There might be a bit of marketing slight of hand with this as the big announcement, but on the other hand, Salesforce is doing a great job branding a conversation that was previously difficult to manage. Real-time data ingestion and use were always difficult to discuss casually, but everyone will know what "Genie" means.
Salesforce and Slack
I'm happy to see innovation in Slack. The "Slack Canvas" will continue to drive Salesforce and Slack closer together and move more transactional use cases to Slack. In other words, do more "real work" from Slack and never have to pop back over to Salesforce. I'm watching this closely and feel if done properly, integrations like this can become transformational for many use cases.
Salesforce Sales Enablement
The third product I'm intrigued by is Salesforce Sales Enablement. The ability to build teachable moments into someone's usual day will put myTrailhead into hyperdrive with more learning options and a better contextual engine to help people do their jobs better. Sales use cases abound, but I believe this tool will apply to many other use cases in the future.
Macroeconomic Conditions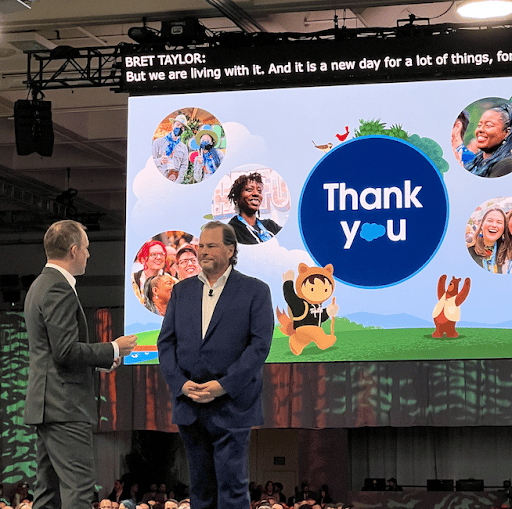 A topic that hung over the event was current macroeconomic conditions. Across the ecosystem, themes of belt-tightening and doing more with less were apparent. From within Salesforce and how they spent on the event to conversations with customers and partners.
I didn't get a sense of calamity by any stretch, but I did feel a theme in most conversations that was loud and clear: We're trying to be ready if the economy moves into a recession. Thankfully, the Salesforce ecosystem is a bit insulated, but the days of "white hot" growth might tone down to "red hot."
Whatever your role is in the ecosystem, my takeaway was to keep your skills sharp and be ready to adapt if conditions require it.
My Favorite Part of Dreamforce is Always the People!
Overall, my favorite part of Dreamforce was the people. I spent more time in meetings with people in the ecosystem than in sessions, and I think that's just how things go at Dreamforce! It was great to see everyone, and I will look to catch up on some of the session content in the recordings (another great thing that Salesforce does well).
I'm looking forward to returning what I learned to our team of Argylers and continue innovating our offerings and services into 2023!