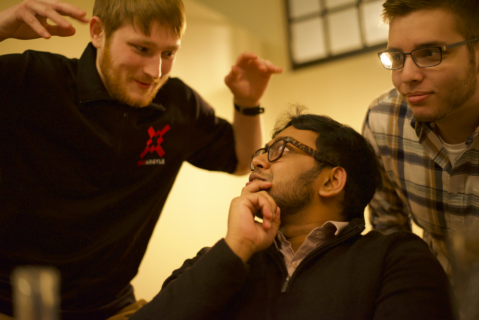 In Red Argyle's short history, our Co-op program has taken leaps and bounds in developing our company. We've been fortunate enough to have the opportunity to work with some amazing students. Some of which have decided to work with us full time after graduation. Our Co-op program growing means that we're growing. And today, we are so ecstatic to welcome our largest group of incoming Co-ops ever!
This marks an exciting milestone for us for a few different reasons. Including the incoming Co-ops, overall, we have our biggest group of current Co-ops in the company's history (10). Not only are we onboarding our traditional developer Co-ops, but for the first time in our company's history, we are onboarding Configuration Co-ops.
Salesforce Configuration is an acquired skill. Not many colleges or universities have programs to guide you through the process of becoming a Salesforce Configurarator. So we figured, why not see if we can be the start of that journey? And at the very least, we can give students an opportunity to learn new skills that will hopefully help them grow both personally and professionally all while being a part of an exciting company.
We know students are growing, so we want to get to know them and give them all the room possible to find their professional strengths. We'll give them all the tools to be on their way to becoming a Salesforce Configurator or Developer, but all we're hoping for is to work with students interested in gaining industry experience, learning the business process, and gaining a little helpful Salesforce experience along the way. And if they find Salesforce Configuration or Development is for them, then great!
Developer Co-ops
This is where our Co-op program started, and this is where it continues to thrive. Our company's first-ever Co-op became a full-time employee, and many others have followed since, and hopefully, more will in the near future. The success of this program is the reason why we feel so confident in not only expanding it with a record number of Co-ops but bringing on Co-ops for other roles other than just developer.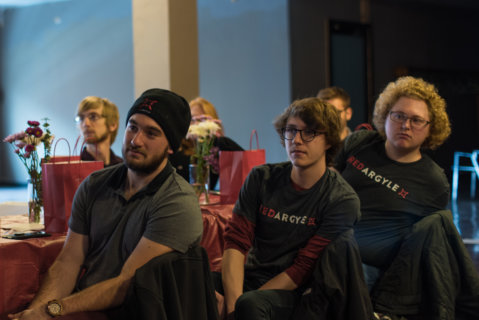 Developer Co-ops get first-hand experience coding and optimizing Salesforce for our clients. It's not a paper-pushing gig, and we're proud of that. With helpful guidance from our senior developers (many of which Co-op'ed with us), our developer Co-ops get to do many, if not all the same things our senior developers get to do, just with a little more guidance and overview.
We don't consider ourselves to be the source of the success of our developer Co-op program. Sure, we like to think that we do a good job at teaching and guiding Co-ops into their professional endeavors. But we learn so much from them that it would be impossible for us to be where we are if it weren't from every person that came through our Co-op program thus far. We're grateful for those who have chosen us this far and excited for those who will choose us in the future.
Configurator Co-ops
As we previously stated, this is a new endeavor for us. But Red Argyle is continuing to grow, continuing to adapt. With new business opportunities comes more opportunities to look at how we want to internally structure our business, and we believe configurator Co-ops will become an important and essential part of it.
Some Configurator Co-ops will be learning a brand new skill from the ground up. But many are going to be coming into the Co-op from a business centered background. So our hope is that they will not only gain a Salesforce Configuration skill but that they will be able to build upon whatever professional endeavours they are pursuing. We are excited to see their progress and hope to give them everything they need to succeed with us and in the future.
We also know Configuration is far different from Development. While development skills can carry over whether you're working on Salesforce or not, Salesforce configuration is, well, specifically Salesforce. Our Co-ops will get first-hand experience. Just like our developer Co-ops. No form of Configuration Co-ops will be paper pushing or office chores. All Co-ops will be doing real, purposeful work.